The name of Allah the Merciful
Praise be to God, Lord of the worlds..and prayers and peace be upon the Messenger of God and his family and companions
Distinguished faculty members… The administrative and scientific responsibility is a sense of duty and sincerity at work
The greatest responsibility that a person carries is the trust that the Holy Qur'an shows us by the Almighty saying: "We have offered safety to the heavens, the earth, and the mountains, so that it is that they are borne, and it is clear."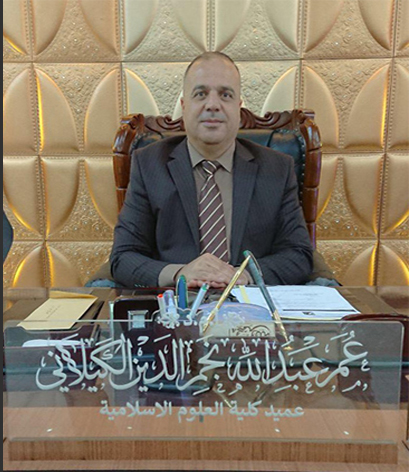 The College of Islamic Sciences was established in 2009, the duration of the studies is four years, and it grants a bachelor's degree in Islamic sciences. Graduates of the two branches (scientific and literary) as well as students of Islamic preparatory schools are accepted within the percentages determined by the Ministry
The college aims to prepare staff specialized in Islamic studies, and emphasizes the study of Islam and its civilization, a systematic scientific study, according to the rules of sober scientific research, in accordance with the greatness of Islam and its scientific status.
The college also emphasizes the study of Islam within its ancient origins, and its sublime, comprehensive and unitary principles, away from national, sectarian, sectarian, partisan and factional frameworks.
It also emphasizes the rebuilding of the strong Islamic personality through the close and scientific interdependence and complete certainty between the individual and Islam. And between Islam and society, away from all frameworks of segregation and racism, in a way that serves the building of a strong, unified Iraq that is sound from all the deviations that exist in deviant societies.
Vision, Mission
And Objectives
Vision
The College of Islamic Sciences seeks to highlight the Islamic identity and achieve it in thought and behavior, keeping abreast of civilizational and scientific progress on the Arab and Islamic arenas, and emphasizing the formation of close relations with its counterparts in other universities and upgrading the level of its members by supporting the scientific research process, developing teaching curricula and improving the educational level to create specialized cadres to supplement the educational process .
Message – tasks
One of the most important tasks of the College of Islamic Sciences is:
Upgrading the scientific level of its teachers by involving professors in training courses and urging them to participate in conferences and seminars held by the university and other universities by presenting exemplary research that serves the reality of the nation and the developments of the times.
As well as raising the scientific level of students by updating and developing school curricula to serve the educational process